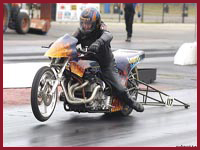 Dave Connery 1951 - 2112 Dave is pinstriping chariots for angels now but his legacy here on earth lives on in his art  and his son Kevin. He inspired many and never had a big ego when it came to himself or his art, at which he was brilliant.  A great sense of humour and a crazy motorcycle racer, we sure miss you Dave.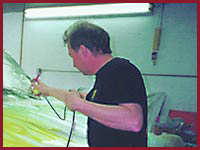 John Connery got into painting as a result of Dave's spin-off business and promptly distinguished himself as one of Canada's best painters, with credits for some of the wildest cars and bikes ever produced locally. He has worked as a technical paint rep for Herbert's Standox, PPG and House Of Kolor. An avid car enthusiast, John always has a fast ride. You can read his advice columns on painting at customkolorcanada.com and canadianrodder.com.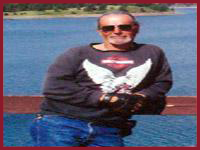 Vic Lefebvre has been doing our bodywork for over 25 years and is a fully licensed bodyman (and former Autobody Instructor). In addition to be able to fix just about anything (including plastics, fiberglass and metal), he is also a capable fabricator and customizer and was responsible for the body work on Cliff Randall's "Chromeless Cruiser" VTX among others. Vic has always had a Harley which he takes everywhere. View a picture of the Chromeless Cruiser here!.
Bragging Rights
John and Dave have won well over 200 "Best Paint In Show Awards" many in Ontario, including 11 times at The International World Of Motorcycles Super Show in Toronto (The largest indoor motorcycle show in North America including 7 Grand Champions), The Performance World Show, The Speed-O-Rama Show, The Speed Sport Show and The Motion Show, and many in the U.S. - including Detroit AutoRama, The Rats Nest in Daytona and the I.S.C.A. (International Show Car Association) World Champion to name a few. Recently a Grand Champion at the 27th Street Machine Nationals 2003 in Lima, Ohio (featuring over 3000 cars and judged by the ISCA).
Grand Champion - Builders Class

International World of Motorcycles Super Show 2005

Grand Champion

London Bike Show 2005

Best Paint

International Spring Bike Super Show

Best Paint

Speed-O-Rama 2005

Best Paint

Canadian Tow Truck Show 2004

Grand Champion

Metalfest Tilsonburg 2004

Grand Champion, Best Paint, Best Use of Color and Best Graphics

Speed-O-Rama Toronto 2002

Grand Champion

Speed-O-Rama Buffalo 2002

Grand Champion/Best Paint

Speed-O-Rama London 2002

Grand Champion/Best Graphics/Best Use of Color

Speed-O-Rama Ottawa 2002

Grand Champion

Brockville Canadian Nationals 2002 and 2003