Toronto Motorcycle Super ShowCome visit us at the 2020 Motorcycle Super Show at the Toronto International Centre January 03 to 05 2020 where we will have a booth in Hall 5.
RIP Rick Fabian 1956/2018. I collaborated with Rick on many outstanding show vehicles, including John St.Germain's Merc, Angelo's Road Runner, Dave Jolly's Lincoln and many other car projects that are featured on this site. Rick did the hard work and I got a lot of the glory for having painted over his perfect bodywork/prepwork . He was also a true friend and will be greatly missed - left way too soon.
Thanks to all who came out to Dave's Memmorial Bash and to Rick Fabian and CJ Kumar for organizing it.
Congratulations to our 2019 SuperShow Winners! We swept the podium with Best Café Racer in Show, Best Chopper in Show, Best Bobber in Show, Best Vintage in Show and runner up for Best in Show (he had already won previous year)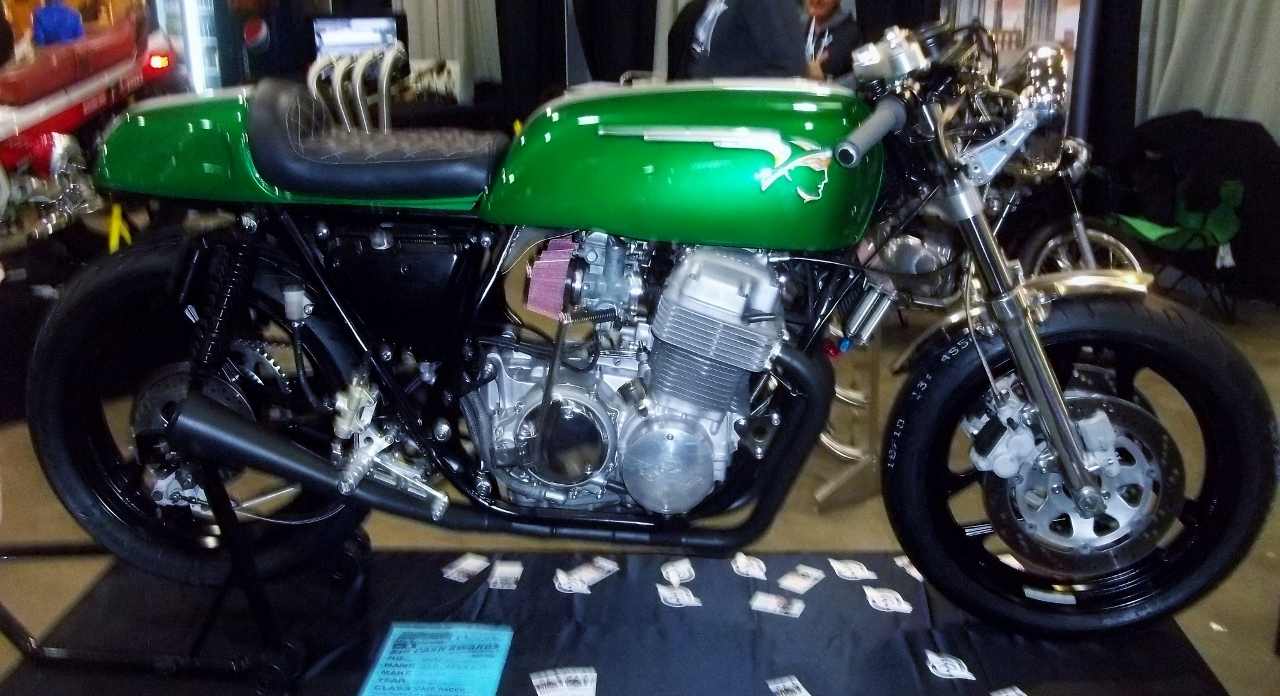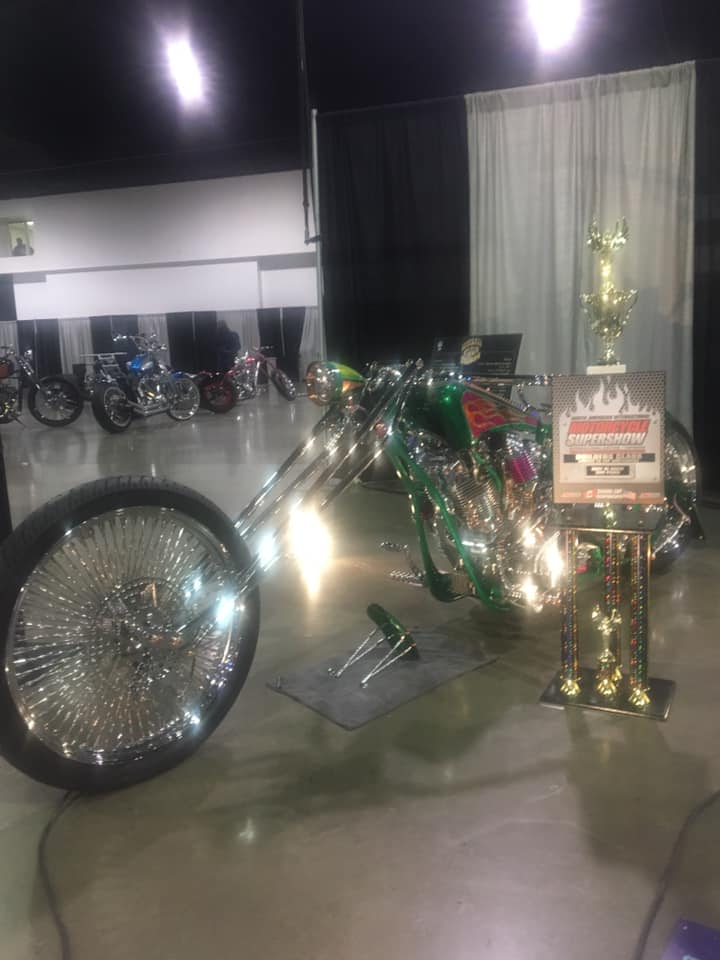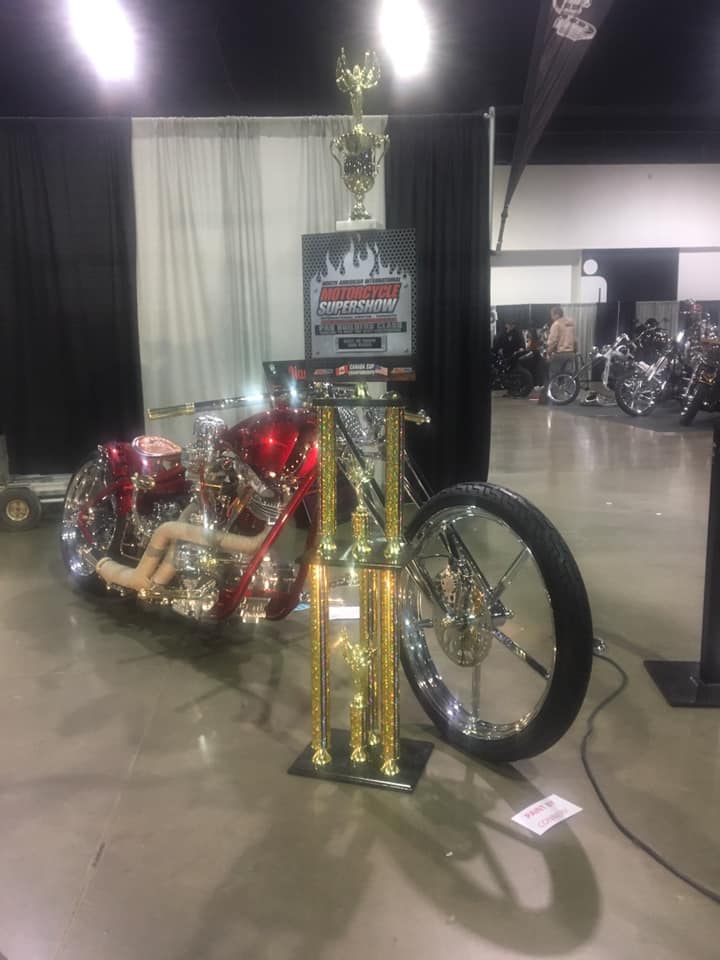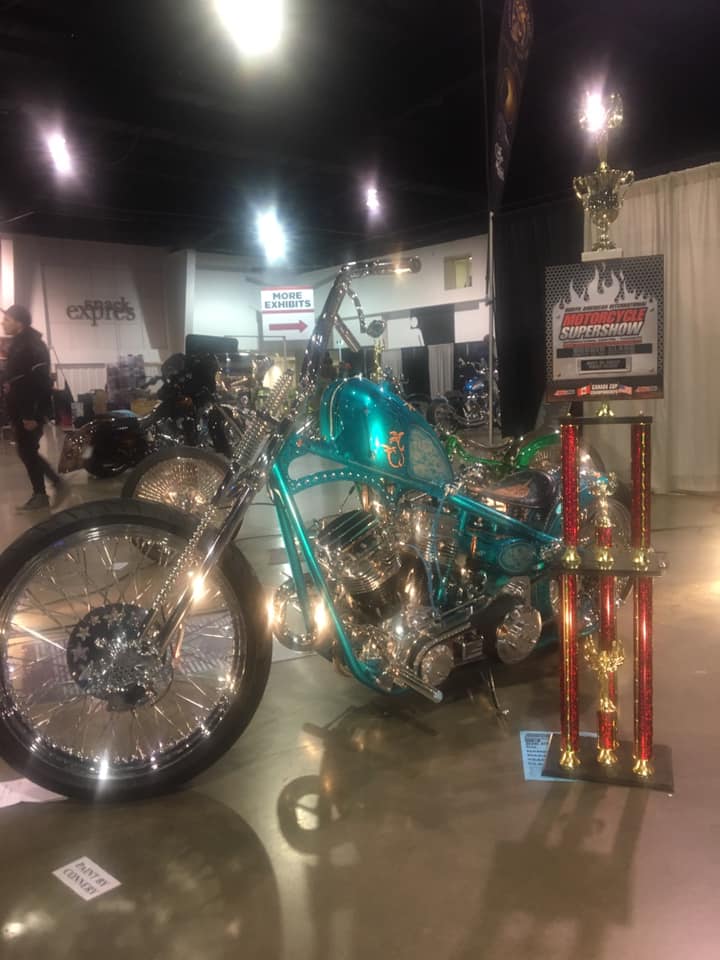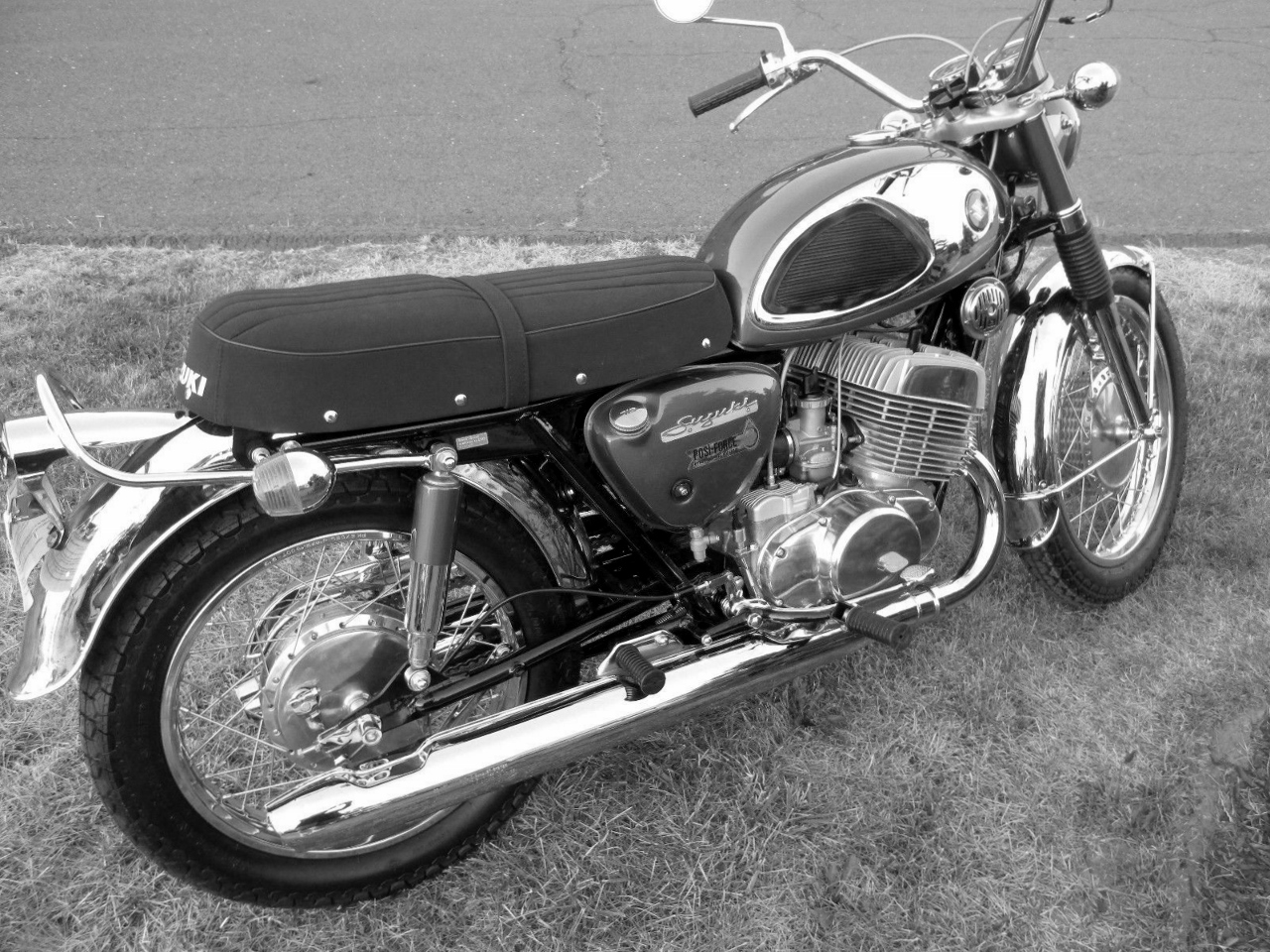 Congrats to Wayne Burgess for winning Best In Show at the 2018 Tobacco Road Bikefest in North Carolina and the Championship Diamond Ring!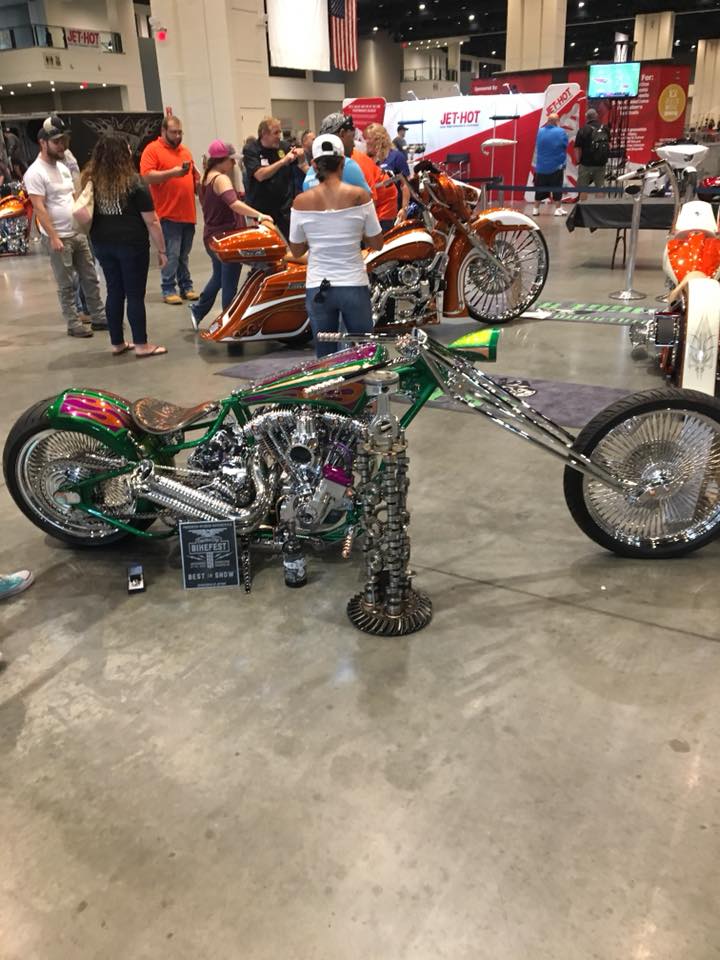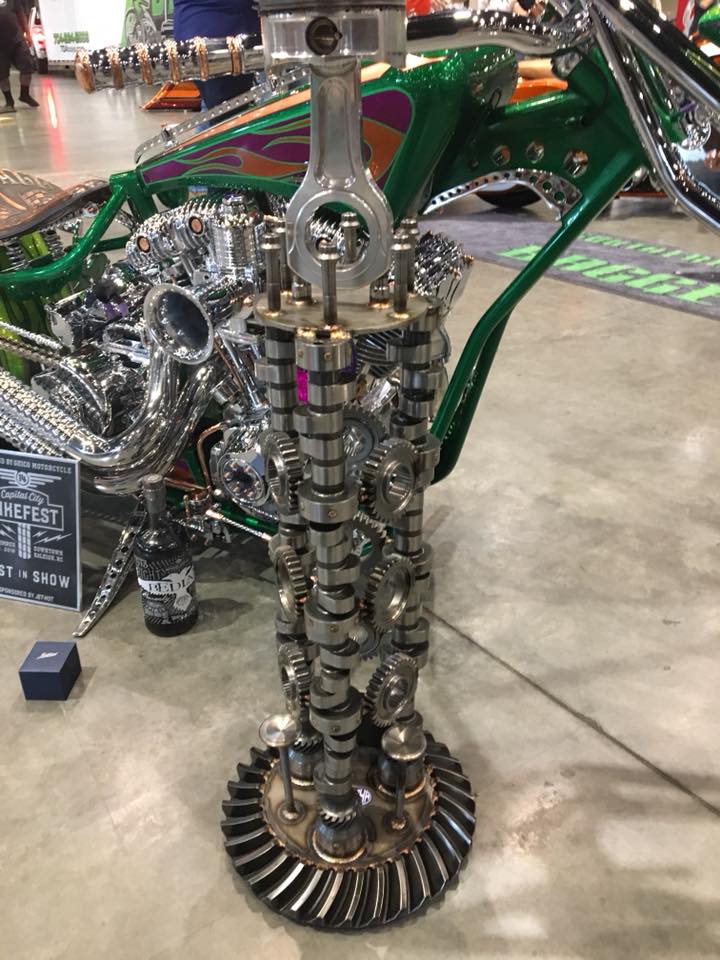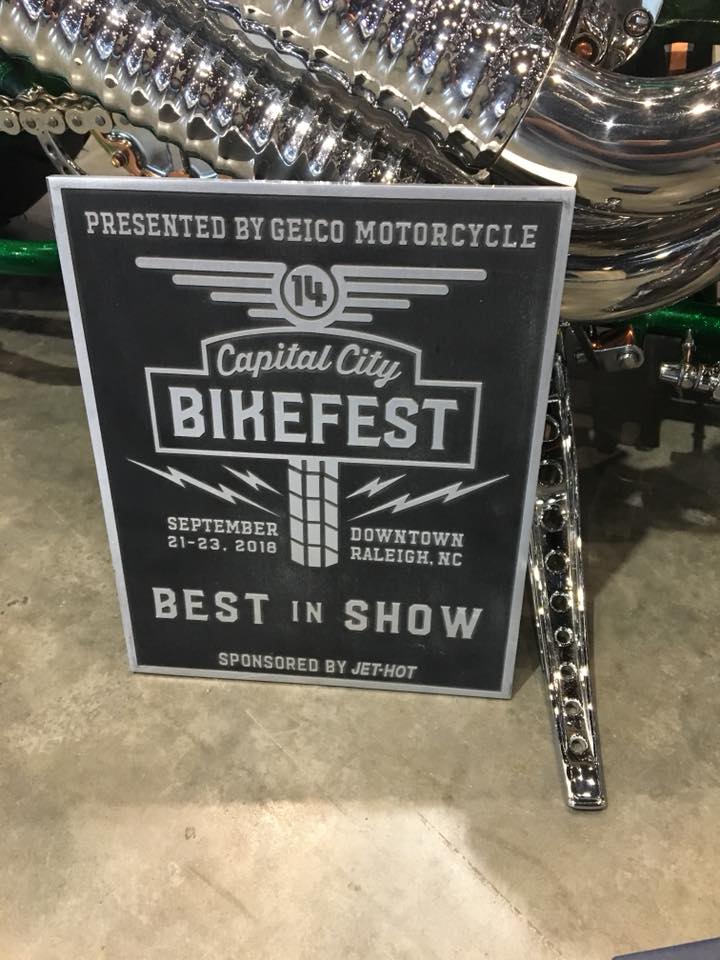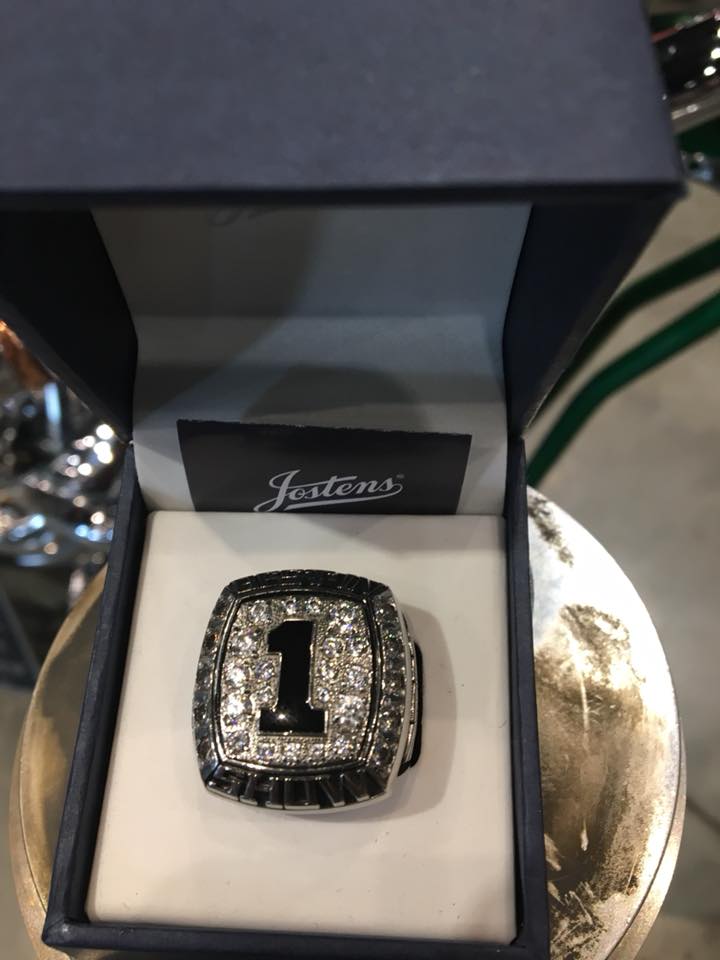 Congratulations to Wayne Burgess for winning the IMBBA Nationals this weekend in Cleveland Ohio including $5000 US and the IMBBA Championship Ring! The prestigious International Bike Builders Association knows bikes. Featuring my paint and Vic's bodywork!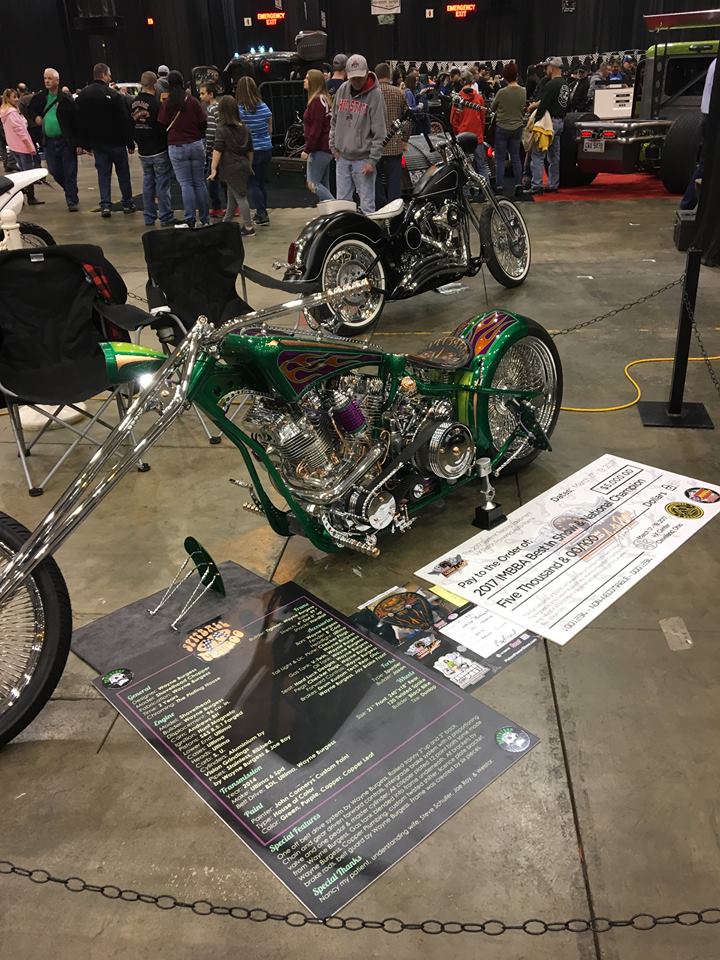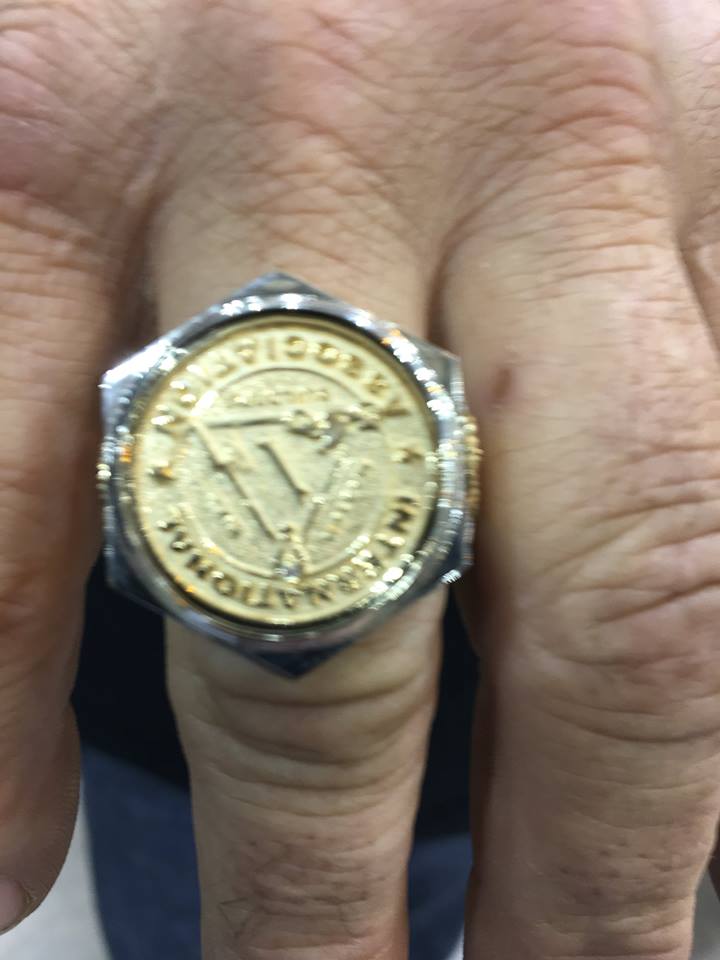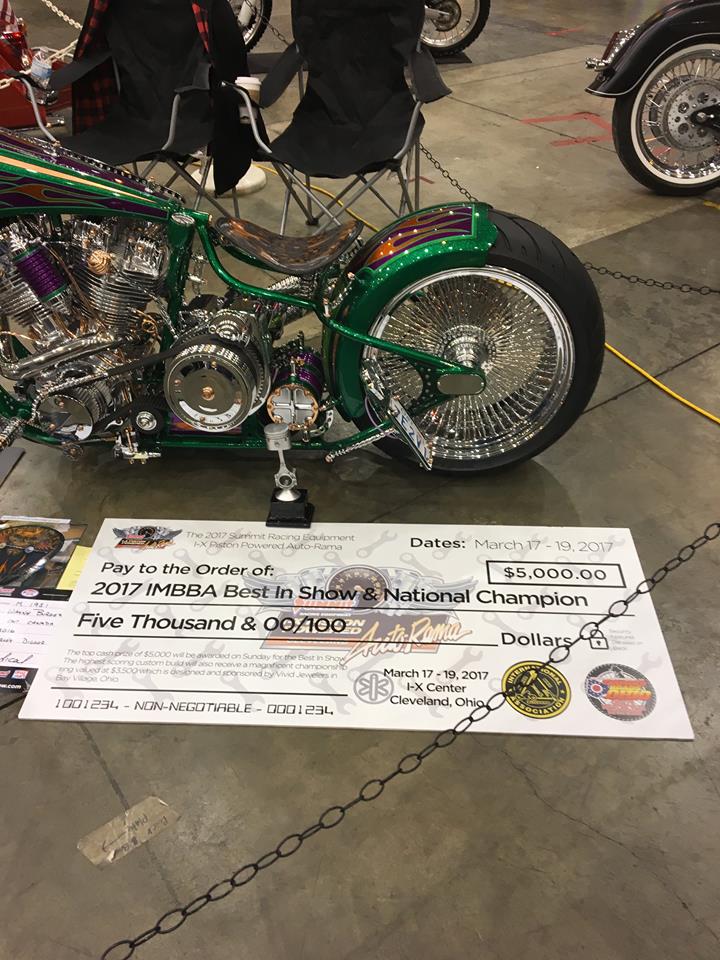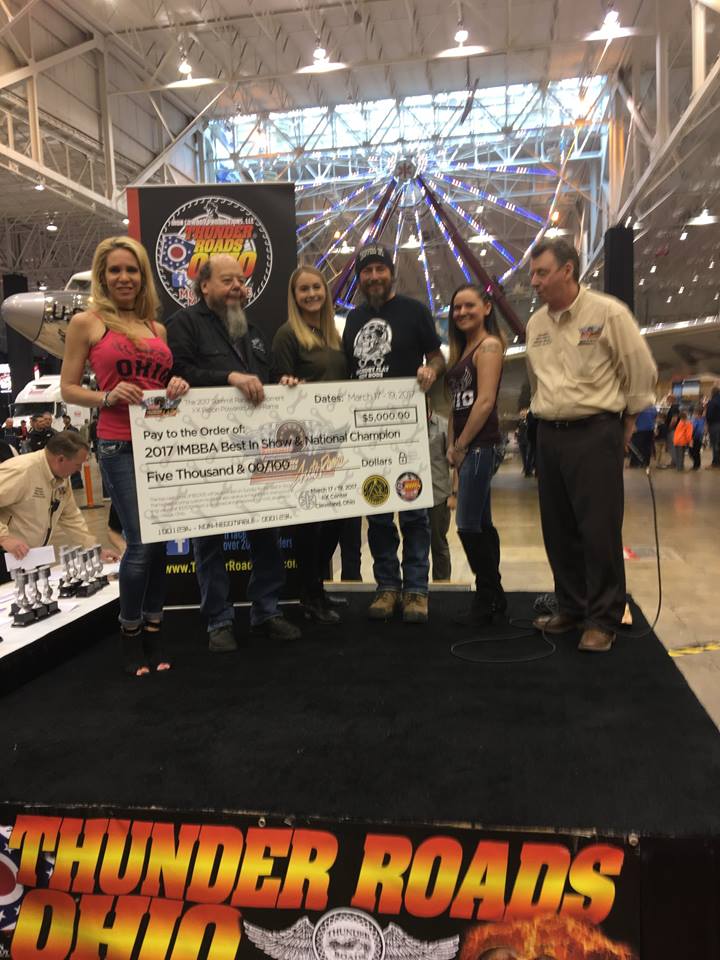 Congratulations to Wayne and Nancy for winning Best in Show and the 2017 Canada Cup at the Toronto International Motorcycle Super Show - the Big One!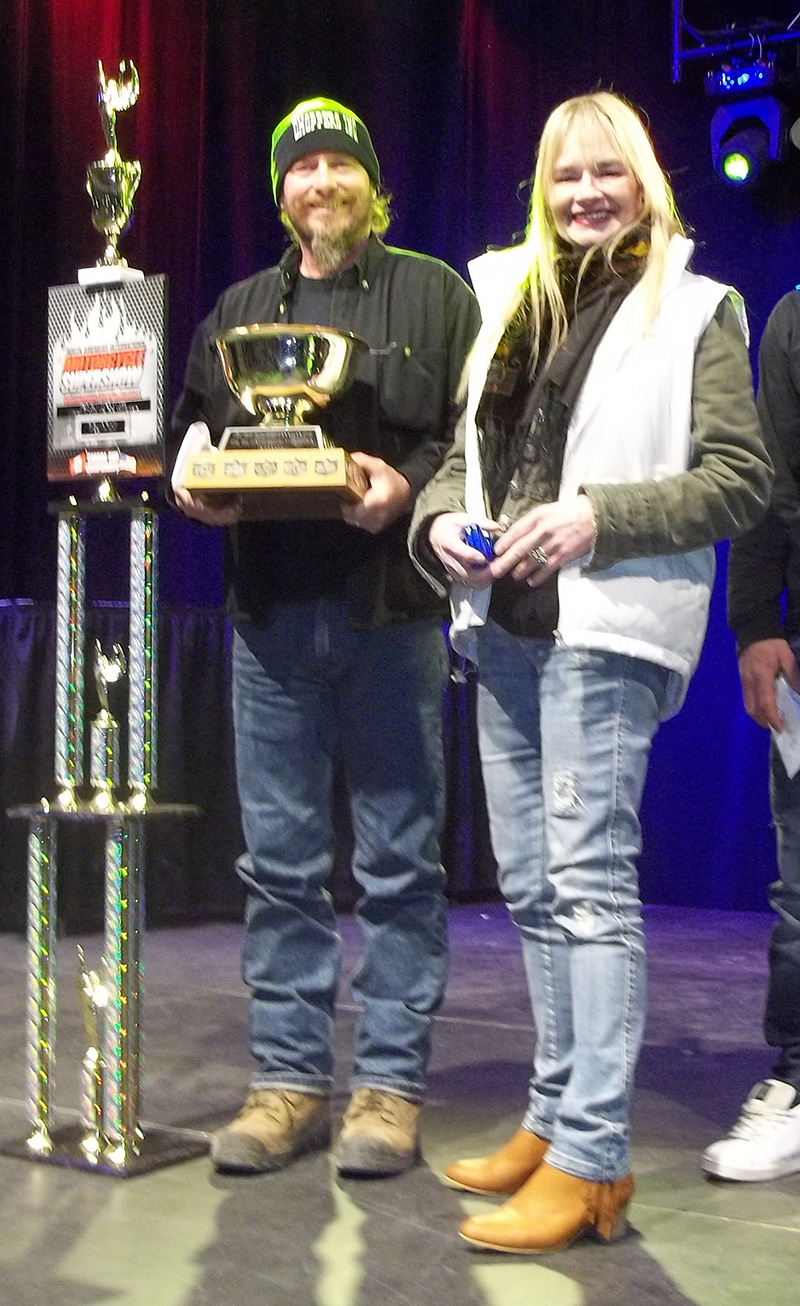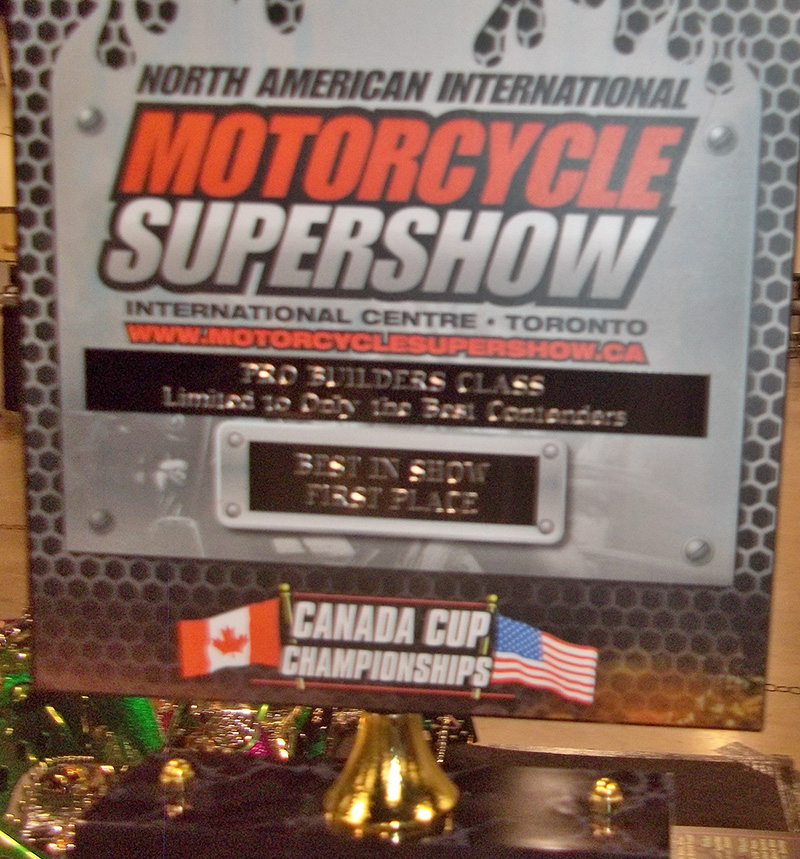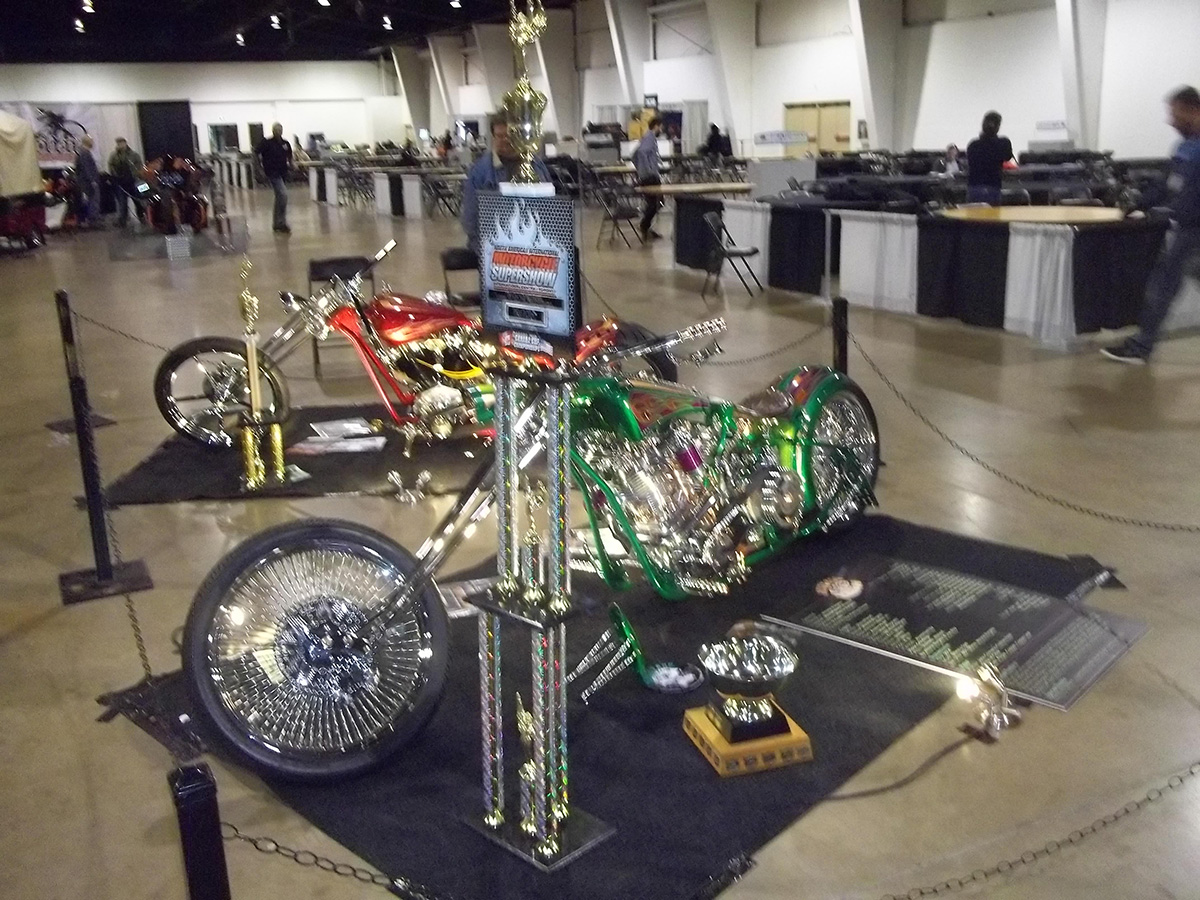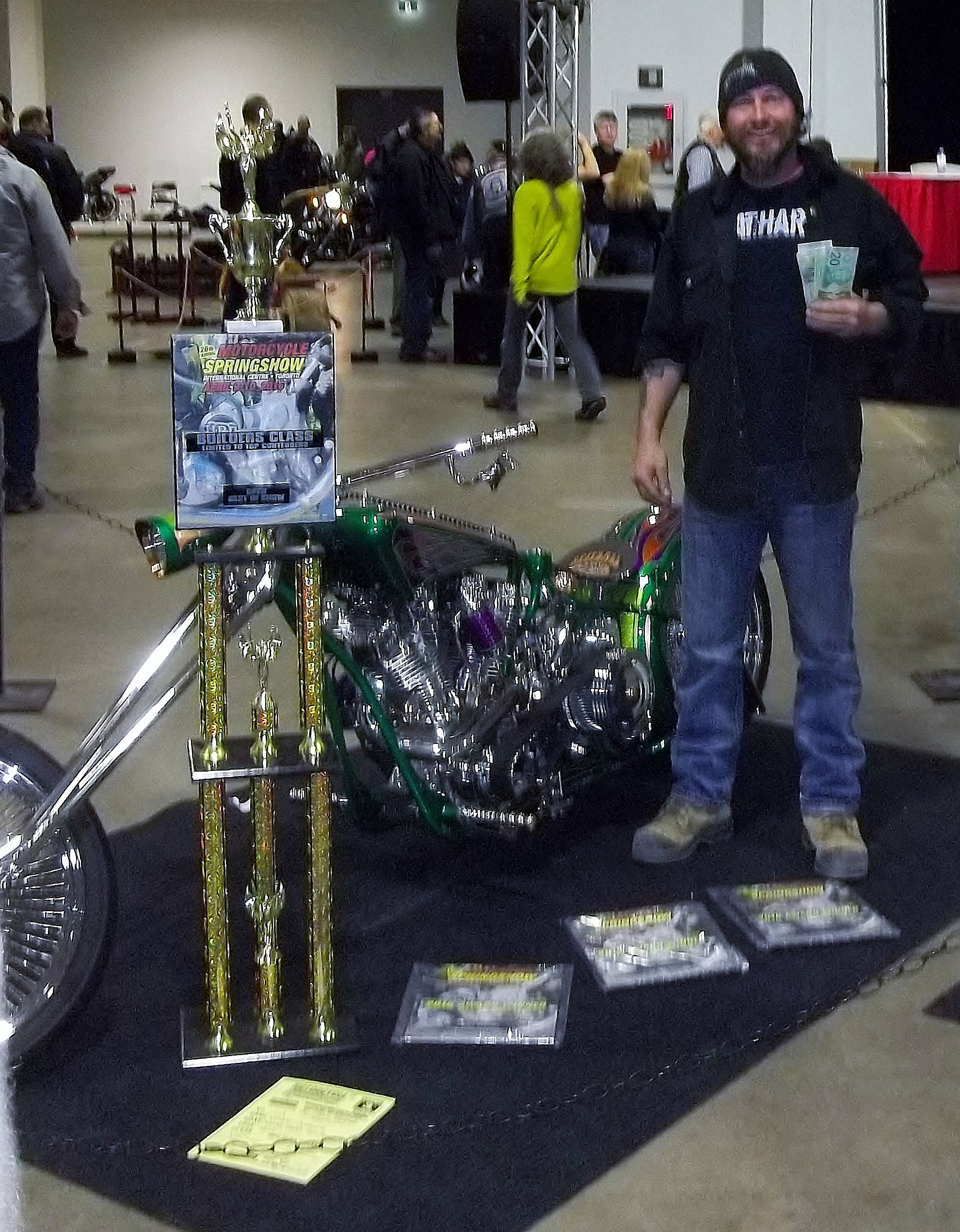 Congratulations to Wayne Burgess, "Best in show" 2016 Toronto Spring Show, Wayne also won "Best in show" at the prestigious 2016 Boardwalk show in Fla. against 140 show bikes entered!
Congratulations to John St.Germain for being chosen by Street Rodder Magazine as best in show and being a top ten pic at the 2015 Syracuse Nationals (8000 cars)
Daddy Kool is back in town! We just finished John St.Germain's 56 Mercury Kustom. Dubbed the Tri Y project this car features parts from 54,55,56 Yblock Mercs including a 312 Thunderbird. Painted Champayne Pearl with Kandy Rootbeer roof and scallops, with pearl fade highlights. Photos are online in our Picture Gallery!
Congrats to Angelo and Debbie (A & D Performance) for winning both Best Paint and Best in Show at this years huge Autofest in Oshawa with their Kandy Brandywine "evil" Road Runner"
I am pleased to announce we have some New Artists joining our team for airbrushing as well as for hand lettering and striping. Inspired and (in some cases) taught by Dave, they are here to carry on the great artwork that is a big part of our commitment to offer the very best in custom paint.
During the fall we offer special deals on our motorcycle paint work - beat the spring rush and save! Email for a free quote!
Finest quality German Matt black - We have the best matt black for the right look and durability will not go chalky, does not mark. This is the cheapest way to look cool. This special paint is no longer available in Canada but we have it.ch
Congrats to Steve Cannelis who won best vintage at the Spring Motorcycle Super Show in April at the International Centre with his 66 Suzuki Stinger
Congrats to Brad Poysor for winning best paint at the 2011 World Of Motorcycles Show London.
Congrats to Roger Waters for winning Best Paint and Best Truck at Performance World 2011 (flames by Connery)
Congrats to Ryan at RNR for winning best paint at the Kitchener Bike Show (the Blue Reaper by Connery)
Congrats to Konstantine for winning Grande Champion with "MissTreated" also at the Kitchener Bike Show.
Congrats to Steve Cannellis for winning best vintage (H2 paint by Connery) at the International Motorcycle Supershow 2011
Congrats to Westhill engines (Larry) for winning best street bike (Wild Bill by Connery) at the 2011 National Motorcycle Show 2011
Congrats to Ryan and his crew at RNR Cycles for their chopper we recently painted being featured in the spring Revolution Magazine.
Congrats to Inga and sons (IRM technologies) for sweeping the awards at the 100th Anniversary of Rudge motorcycles in Paris this summer - including Best in Show and First Place in every class entered with their spectacularly accurate restorations of this legendary marque
John has recently painted the first life size Mattel Hot Wheels car a Colour Shifting Mustang using a special pigment that changes with temperature as used on the toys. It will be touring Canada all summer promoting Mattel Hot Wheels! MORE INFO
Super Chevy Magazines "2009 Car Of The Year" is none other than Rod's Vette with a big spread in the February 09 issue of the mag - quote "could this be the greatest Hot Rod ever?"
Check out the February 09 issue of Revolution Magazine with Konstantine's Billy Lane derived "Foxy Roxy" on the cover and inside. We are also redoing the paint and body on the notorious Billy Lane hub-less "MissTreated" that was featured on the Discovery Channel biker build-off – the one that caught fire! This will be the subject of before and after in some major publications to follow!
We also just finished repainting the famous Billy Lane "Psycho Cadillac" – the very first hub-less bike ever built - and immortalized in Billy's book "Chop Fiction" and numerous mags.
Congrats to Rod Saboury – officially the first true street car to run a 6 second quarter mile (on D.O.T tires and through mufflers – the air-conditioning was turned off though!) MORE INFO
Congrats to Peter Duff winning Best in Show at the largest collection of Willys ever assembled for Lancaster NY Speedway 17th annual Willys Home Run show and drag this past summer.
Dave recently did the graphics on the original Terry Fox Van restoration, http://www.thestar.com/article/426679 (ironically 25 years ago he also did a clone of the van for the 1983 Movie "The Terry Fox Story") It toured from coast to coast this summer raising cancer awareness and is now on permanent display in the Marathon of Hope museum in BC.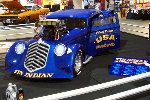 Congrats to Aaron Pilatzke for the outstanding Tin Indian resto being inducted into the Drag Racing Hall of Fame. All lettering/airbrushing done from old photos by DaveMORE INFO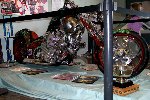 Congrats to Markham Custom Cycle for Skull Cruncher 2 being put on display at the Markham museum as the main feature on Markham technology until the end of June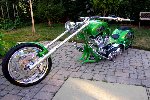 Congrats to Sonny for winning Grand Champion again at the 2008 London Bike show with his Grim Reaper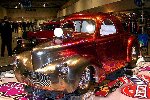 Congrats to Peter Duff for taking home the Paint Awards at the 2008 Performance World Show with his metalflake Willy's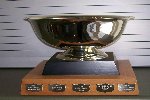 Congrats to Markham Custom Cycle for winning the "Canada Cup and Best in Show" at the 2008 International Motorcycle Supershow (and over 13,000.00 in cash!) with Skull Cruncher 2 we just painted (over 1000 hand painted skulls).
Congrats to the Twin's Gizmo which was shot for "Easy Rider Magazine" along with Skull Cruncher.
Congrats to Rod Saboury being picked as one of the top three extreme machines at this years Sema show: SEMA2007
Congratulations to Sonny Newby - winner of Best In Show at the recent London bike show (see his bike the Grim Reaper at the National Show).
Also congrats to Rick Stagg whose Tru-fire chopper molded by Dave Green at Rotten Choppers took Best Paint in show at London (a third year in a row for CCP!)
Congrats also go to CJ for winning Best Paint at the recent Speed-O-Rama show with his 59 Corvette - the Dragon, painted by Vette Works with artwork and Tru-fire by Dave.
WE JUST FINISHED THE GRAPHICS AND PAINTING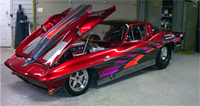 (in collaboration with Dave Bell) on Rod Saboury's incredible 63 Corvette "world first 6 second street car". Rod who hail's from Maryland is a two time world champion with previous Corvettes but this one is the wildest yet. The Lowdown Hot Rods built chrome moly car features an original 63 split window body that has been stretched and lengthened and features one off Carbon fiber hood and doors. The pump gas twin turbo Mike Moran small block makes over 2400 horespower and is backed by a downshiftable Lenco. It will participate in the Hot Rod Power Tour this coming summer and then go to the strip for Hot Rod TV. You will be able to see Rod's car in Vette, Street Machine, Hot Rod and other magazines shortly. Rod's car will be featured at the Performance World Car Show on March 9,10 and 11.
We have/are working on a few cars that will be debuting at Speed-O-Rama Jan. 26, 27 & 28 and whole bunch at Performance World Car Show on March 9.10 & 11 where you can visit me at the House Of Kolor booth in Hall. Performance World Carshow
MOTORCYCLE PAINT SPECIALS!
During the off season we can offer you a quick turn around and at a better price! - email John at jconnery@rogers.com for a free quote or call him at 647-828-1860. For kustoms we have all the new colors just out from House of Kolor available! We also do expert color matching for exacting older motorcycle restorations and Dave is an expert at hand pinstriping. We have recently restored the painted areas to a 65 Honda, a 64, 69 and 75 BMWs, (as well as striping a 1917 Renault for a museum)
CAR/TRUCK FLAME SPECIAL!
We are offering quick turn around ( 3-5 days with an appointment ) at a better price on our legendary flame paint jobs! Contact us for a free quote - jconnery@rogers.com or Dave at 416-285-7376.
Dave to start up night airbrushing courses again this fall at Centennial College in Scarborough. John is making available airbrush quantities of all House of Kolor products as well as instructional CD's and books.
---
Located in Toronto, we specialize in spectacular flames, graphics and airbrushed lettering on hotrods, motorcycles, race cars, boats, trucks and street machines.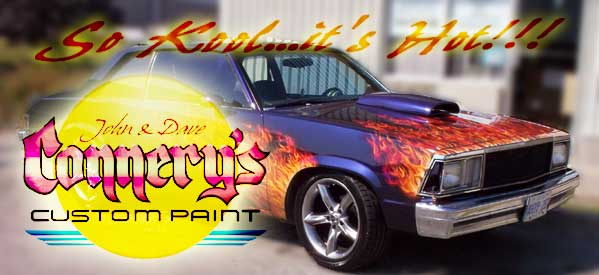 If you like it so kool - it's hot – you've come to the right place!
Our work has taken hundreds of awards and appeared in leading enthusiasts' magazines throughout the world! We been learning our craft for 25 years to make your project our best yet. Please peruse some of our past work on this site and challenge us with your imagination (and ours) to create another winner for you!